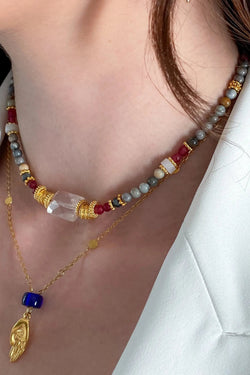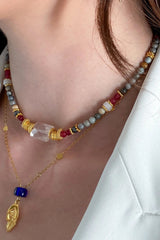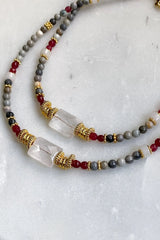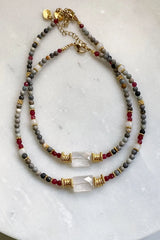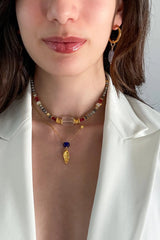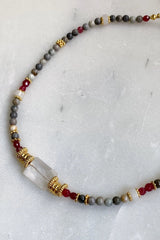 Gift for her Mum Gift Heishi Necklace Rose Quartz Jade Statement Necklace Surfer Choker Gold Charm Necklace
AYDREY NECKLACE
Grey and Purple colored necklace with Picasso jasper beads, white quartz, red jade, central rose quartz stone and gold filled ethnic details
Dimensions: Total necklace length From 14in to 20in + 2in extender chain
Weight: 30gr
Nickel Free
All photos show worn the 15 inches/ 38 centimeters length version
ROSE QUARTZ
Rose Quartz purifies and opens the heart at all levels to promote love, self-love, friendship, deep inner healing and feelings of peace. Calming and reassuring, it helps to comfort in times of grief. Rose Quartz dispels negativity and protects against environmental pollution, replacing it with loving vibes.
PICASSO JASPER
Picasso Jasper assists in the positive transformation of relationships.It is a powerful healing stone; it can promote weight loss, regulate metabolism, and it is useful for eye problems and infections.
JADE
Jade is a highly valued stone that symbolizes gentleness, serenity, harmony, and balance in feng shui, or the practice of bringing balance to your life and home with energy. Jade has many meanings, including strength, luck, and good health. Jade is also revered for its healing properties balancing the body's processes
DELIVERY (estimate delays)
Greece: 2-5 business days via ELTA
Europe: 5-10 business days via Hellenic Post
International: 10-21 business days via Hellenic Post
You can shorten considerably your delivery times by upgrading to Express services at checkout
All Pure Greek Jewels are inspired from the current trends, classical arts, world traditions and cultures. Our jewelry are handmade with love and imagination so you can enjoy unique creations.
We use mineral and semi-precious stones, freshwater pearls, crystals, steel chains and gold plated metals.
I only use high quality materials that guarantee great comfort and longevity to our jewels.
*Keep in mind that our jewelry can present minor differences from the model depicted in shape or color according to availability of materials.
CARE
All our Jewels are handcrafted with care so please treat them with love so you can enjoy them for a long time. In order to avoid your jewelry from changing color or blacken, avoid wearing them while being in the water, doing exercise or any contact with chemicals (perfume, body cream, soap) and sweat (or anything acid).
SATISFACTION GUARANTEED
If, for any reason, you are not happy with your order (wrong fitting, color, etc), please contact us directly and we will do our best to find a solution and bring the smile back to your face!
Enjoy shopping with us!
>>>PLEASE CONTACT ME FIRST IF YOU HAVE ANY PROBLEM WITH YOUR ORDER<<<